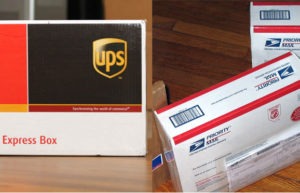 Your merchandise are ready and you've set up your eCommerce store. Before launching your site, make sure that your shipping process has also been laid out including the carrier you will use. Apart from having your items shipped to buyers at the shortest time possible, other key factors that you should consider when choosing a courier are security and low shipping costs. You want a company that can deliver on time, without damage and at the lowest rates possible.
USPS and UPS are two of the most reliable carriers around when it comes to good service and cost-efficiency. Each has advantages and disadvantages which can be beneficial to you depending on your business model. Here are a few tips to help you decide which among these carriers is best for your business. To be sure, compare rates by using their online shipping calculators.
USPS is generally cost-efficient when sending out smaller, lighter items (under two pounds). Items under 13 ounces can go First Class, which is pretty inexpensive. If shipping books, DVDs, CDs and other qualified items, Media Mail offer the cheapest rate around.
UPS is your best bet if your product is heavy and over-sized.
For small but heavy items, flat-rate Priority from USPS is an excellent option. If your item fits a Priority Mail box, you can ship it at affordable rates regardless of weight.
An extremely useful feature of USPS for online sellers is delivery confirmation and insurance (for an additional fee).
UPS offers tracking and up to $100 of insurance in the price of shipping.
Cut extra costs on packing materials by using USPS' Priority and Express mailing supplies, including boxes, which can be ordered free of charge from its online store.
To get free labels and some packing materials from UPS, signup for an account at the UPS online store.
Take advantage of USPS' free pick-up. Just make sure that at least one of your packages is Priority or Express.
UPS offers daily pick-up services for an additional fee dependent on volume.
If you are turning out a large number of parcels a day, check out USPS and UPS' discounts for volume shippers.
By presenting to you the pros and cons of shipping via USPS or UPS, we hope we help you on deciding which company can be beneficial to your online business