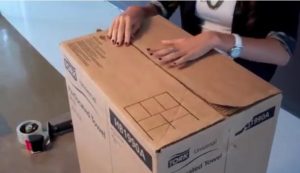 The tedious part of online selling kicks in when orders start coming in. Apart from peroper packing to ensure that the items are well protected against damage, there are other factors that must be considered when preparing the package. This includes keeping the shipping costs at a minimum and meeting your buyers' expectations so you can get repeat businesses or referrals.
Here are some valuable tips to help you get on with shipping and preventing costly mistakes, or worse, dealing with complaints from disgruntled buyers when their item is lost or arrives damaged.
Invest on a shipping scale. This handy device is particularly useful as most carrier base their rates on the weight of the package. With a scale, it is easy to know exactly how much an item weighs so you can easily calculate the postage. Include the calculated shipping costs in your listings.
Don't overcharge for shipping. Buyers avoid listings that have excessive handling fees. Do charge a reasonable handling fee to cover your cost of materials and your time to pack the item. You can charge a separate handling fee for international buyers to cover the additional customs overhead.
Include a packing slip in the package. This will not only give buyers a good impression of you as a seller, it is also a good safety net in case the shipping label is torn off  of the package or is rendered unreadable due to damage. In such cases, a packing slip inside the package can provide the carrier information as to where to deliver the item or send it back to you.
Use delivery confirmation on all packages. This will give your buyers peace of mind and protect you against shady buyers if claim that they didn't receive your package. In the event the package was really lost, you have a way to track it down.
Use signature confirmation for high-value items. This is another protection again unscrupulous buyers who complain of not receiving the item when they already did.
Buy shipping insurance for expensive items. The rough shipping environment and the sticky fingers of some shipping employees can lead to damage or loss during shipping. Protect yourself from taking a big loss if the buyer wants their money back.
Keep tracking information for at least 45 days after the payment has been received. This will ensure that you have documents to show when something untoward happens.
Use USPS priority flat rate shipping boxes. This option is very cost efficient when  shipping items that weigh more than 2 pounds.