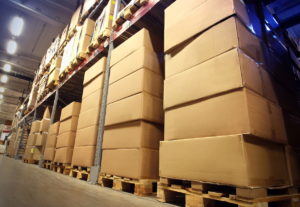 Shipping, or the transport of goods from one location to another either by air, sea or land, is an indispensable part of many businesses. The shipping process may seem daunting for beginners but knowing basic shipping terminologies will help you have a better understanding of the procedure. Here are some shipping terms and their definitions.
Air Freight
Air freight is the transportation of products by airplane.
Blanket Wrap
Specialized blankets used for wrapping items for shipping that secure the goods' surfaces and prevent movement during transport. It is commonly used when shipping such items as furniture and glass.
Cargo
The specific freight carried by a ship, aircraft, truck or other transport vehicle.
Crate
Any container, typically constructed of wood but can also come in other materials such as plastic, that is used specifically for shipping or storing items.
Crating
The process of custom packing items for shipping in crates. Crating may include use of standard crates or the construction of custom containers from wood, cardboard or plastic.
Door-To-Port
A shipping service that transports items from the shipper's designated location directly to the destination.
Door-To-Door
A shipping method which provides service from the shipper's residence, warehouse, office, or chosen location directly to the actual destination.
Domestic Shipping
Domestic shipping is any shipping to or from the 48 contiguous states (excluding Alaska and Hawaii).
Dunnage
Dunnage is any and all loose packaging material (peanuts, loose fill) that is utilized to secure freight, fill empty space, or reduce shifting of items during transport.
Fragile
A term used for any item that is easily breakable or damaged, such as glass, artwork, ceramics, or anything made of a fragile material. These must be specially packed to avoid damage during transport.
Freight Forwarding
The process of moving freight safely and securely from one destination to another. This may include custom crating and packing, scheduling and tracking, point-to-point service, online booking, detailed reports, and preparation of manifests.
Full Truck Load
This is a cargo shipment that fills either the size or weight capacity of its container.
Hazardous Materials
Materials that are regulated or prohibited from being shipped or transported. These includes explosives, compressed gases, flammable liquids and solids, oxidizers and organic peroxides, poisonous materials, radioactive materials, corrosives, and infectious materials.
International Shipping
International shipping involves any items shipped outside the 48 contiguous states to any countries around the world.
Large-Item Crating
The process of custom packing large or over-sized objects such as armoires and grandfather clocks, as well as artwork, antiques, equipment, furniture and high-tech electronics.
Less-Than-Container (LCL)
An LCL shipment is a cargo shipment that is less than the capacity of its container. This is usually combined with cargo of another shipper to fill out the load.
Loose-Fill
Any or all materials (such as packing peanuts) used to secure items, fill a void, or protect good from damage while in transit.
Less Than Truckload (LTL)
Less than truckload or motor freight is a shipment that travels with other cargo from more than one shipper. As its name implies, it quite literally does not fill a complete load and is normally placed in crates or palletized for shipping on a single mode of transport (truck).
Motor Freight
Motor freight is defined as freight transport by road (truck), rail, or any motor motor freight vehicle.
Next Day Shipping
Next day (also known as air or expedited shipping) is the process of cargo shipping transport for delivery the very next day.
Ocean Freight
Ocean freight Involves transportation by sea or ocean vessel. This type of ocean freight shipping normally takes longer, but it can be substantially lower in cost, when compared with air or road.
Packing
The process of preparing items for safe shipping. Packing may include blanket wrapping, stretch wrapping, use of peanuts, popcorn, or other materials to ensure items travel safely.
Pallet
A pallet is a portable usually wooden-constructed platform or raised surface that is used to store and transport goods.
Road and Rail Freight
The act of transporting freight by truck or train.
Same Day Shipping
Same-day shipping involves the pick up and delivery of goods during the same business day.
Tariff
A tariff, also known as a tax, is normally reserved for an item being shipped.
Transportation Brokerage
The sourcing and coordination of all transportation services involved in international shipping, including location of qualified carriers, management of documentation for all customs clearances, and serving as a single point of contact for importing/exporting and drop-ship options from international destinations.
Tracking
A method by which shipped items or an entire freight may be located in transit.
Two-Day Shipping
This type of shipping involves transportation of goods (normally by air) for delivery within two business days.
White Glove Services
A specialized service offered by carriers for the packing and shipping of fragile or valuable items such as antiques, high end furniture and high-value electronics. Employs personnel which are specially trained to handle, pack and transport important items.
Written confirmation
A written confirmation is a signed, official "receipt" that proves when and where a particular item was shipped and/or received.