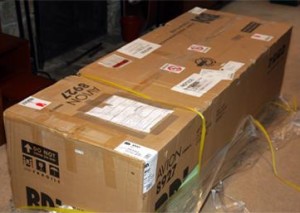 Large packages can be troublesome and expensive to ship.  But with proper planning, shipping massive packages can be hassle-free.  What you need to do is research about carriers and pick the one that will best meet your shipping needs. Companies such as FedEx and UPS, as well as the USPS, will ship your oversize package, but the exact specifications for how and at what price they'll ship it can vary widely so it is best to check out their website. The following are some tips on how to ship over-sized items.
Use sturdy and clean shipping boxes as containers of your oversize items. Avoid reusing old and tattered boxes. The better quality the box, the simpler it is to ship.
Label the address on multiple sides of the box, and indicate any specifications necessary for the contents. Put "Fragile" or "Handle with Care" labels if necessary.
Measure the weight of the package to get an idea of how much you'll pay for shipping. If the package is light enough for you to carry,  stand on a bathroom scale holding the package and then subtract your own weight.
Also measure the dimensions (length, width and height) of the package.  This measurements are also necessary to determine if the package is oversize. You can calculate dimensional weight by multiplying together the length, width and height and dividing the product by 194. UPS and FedEx both use dimensional weight in determining shipping costs.
Most shipping companies have shipping cost calculators on their websites. You can use this feature to get an idea of how much you'll spend for shipping your package. .
Some shipping companies are offering pickup services so you don't need to get out of your house. Be sure to call your carrier ahead of time and make sure that they offer this service in your area.
If pick up services are unavailable, you have no choice but to take the package to the shipping office yourself.
Ship over-sized packages well ahead of time to avoid paying premium rates on delivery options. Remember that the slowest shipping option means a lower rate.