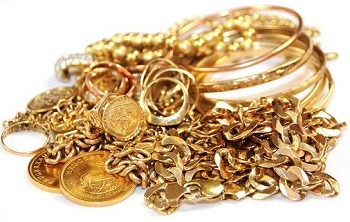 Precious items such as gold jewelry must be properly packed before shipping. Here are some tips on how to properly pack and ship gold jewelry so they don't get lost, stolen or damaged during transit.
1. Place each gold necklace in individual small Ziploc bags to prevent them from getting entangled together.  Do the same to the ring and pair of earrings. Wrap each small bag in a piece of bubble wrap and place in a small jewelry box or an old film canister if they will fit. Seal the box or canister with packaging tape so it will not pop open.
2. Place the box/canister in a padded mailer and mail through the US Postal Service. You may want to use USPS registered mail or Express Mail with full insurance because it is very secure.
3. First Class or Priority Mail is less secure so insurance is suggested as a package might get lost, stolen, or damaged and you will have no recourse unless it is insured.
4. Another good and safe way to ship is thru Registered Mail. Every postal employee who handle the parcel must sign for it. However, this may take a bit longer to arrive. Use Registered Mail only if you can afford to wait.
5. It is also important to keep you package as generic as possible, without any hint of what is inside. Never write gold, silver, precious metals, coins, jewelry, watches, diamonds, on the package. It's like putting a label that says "steal me!"