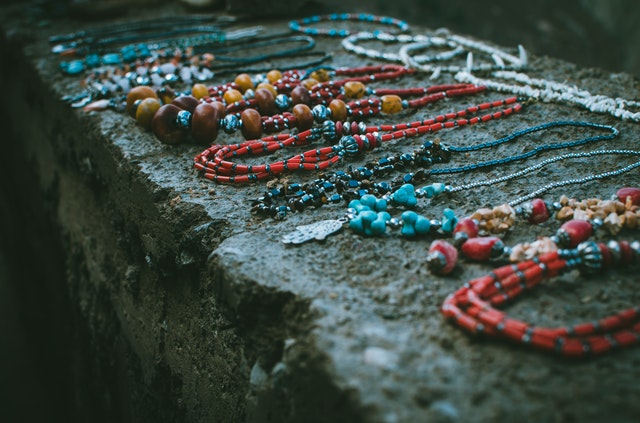 Beads continue to be one of the most popular fashion accessories today, more than 100,000 years after the first known jewelry (a pair of beads made from Nassarius sea snail shells) was discovered. Bead-working or the art of crafting decorative items using beads is not only a popular hobby for many individuals but also a lucrative business.
Beads can be made from a variety of materials such as wood, plastic, glass, ceramic, metal, and stone. Depending on the kind of beads and materials used, bead jewelry can either be relatively cheap or extremely high-valued. For example, bead accessories made from crystal, ivory, or semi-precious stones can cost more than their counterparts made from plastic, wood, or even paper beads!
When shipping bead accessories, they should be properly packed to prevent any damage such as scratches from banging into each other or getting crushed when heavier loads are stacked on top of their packages. Here are some tips on how to properly pack and ship bead jewelry to ensure that it arrives in pristine and gorgeous condition.
Wrap small bead jewelry, such as earrings, rings, pendants, and bracelets, in tissue paper and place inside a small padded jewelry box. The tissue paper will prevent the beads from banging onto other beads and scratching their surfaces during transit. Place the small box inside a bubble envelope and take to your local post office.
For bigger and bulkier pieces like bib necklaces or chunky bracelets, wrap each item in layers of tissue paper and then, bubble wrap. Secure the wrap with tape to avoid unfurling. Place the item in a box and fill all sides, top and bottom with packing materials such as shredded paper or more bubble wrap. Make sure that the package is packed well and there is no empty space inside the box for the item to move around. Double box the package in a slightly larger shipping box filled with more packing materials.
Close the package and seal well with packaging tape. Address and label the box and take to your local post office or preferred shipping company. Purchase insurance for high-value bead jewelry to protect you in case the package gets lost or damaged during shipping.