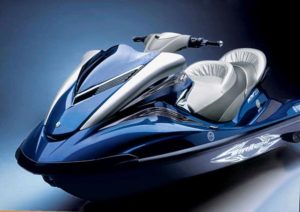 The beach may not always be just right outside your doorstep.  Sometimes you want to take your personal watercraft with you to meet your need for speed. Shipping your jet ski to your beach destination is easy, although it can be moderately expensive and you need to take out the proper insurance. Here are some tips on how to properly ship a jet ski.
Since common postal carriers may not take your jet ski for shipping, you may want to look for different possibilities. Ask at dealerships and bike transportation shops if they can ship your personal watercraft for a fee. Your local marina may also be a good resource.
Ask your chosen carrier on how they will ship your jet ski. Ideally, the PWC will be partially suspended and secured by straps to prevent scraping and damage to the hull during transit.
To cut on extra costs, you might want to consider taking your jet ski out of the water yourself. You might also want to take to the shipper yourself so you won't be charged for pick-up fees. Just be sure that the vehicle is enclosed in a PWC covering to protect it from the weather before you deliver it.
It's also ideal to insure your jet ski for its full value. Negotiate with the carrier to be sure that the insurance covers damage in transit and loss. Take time-stamped photos of the hull, top and bottom of the jet ski so that you will be able prove the shipping condition.
Decide if you want the jet ski delivered to a home or marina. Extra fees can be added on if the PWC is delivered directly to the water. If you are shipping to a home location, be sure there is a carriage or trailer on which the jet ski can be set when it arrives.
Purchase a crate if your shipper requires packaging. Be sure that the jet ski is raised off the base of the crate and properly padded to protect it. Take photos of the packaging before the crate is sealed so that you can prove it was properly packaged in the event of damage during transit.
Ship extra parts and accessories by placing them inside the jet ski's storage space. Do not ship helmets inside the crate, since they can move during shipping and cause dents and damage to the PWC.
Save