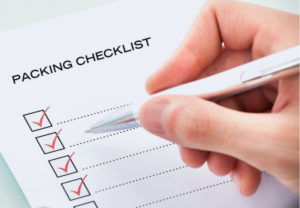 Depending on the carrier and shipping option you chose, parcels and packages will be processed and delivered via different means, including manually or automated using mechanical equipment.  During the shipping process, items are exposed to a variety of shocks and pressures that can lead to damage.
To keep your package intact under any shipping condition, proper and sufficient packing is essential.  Apart from damage, wrong or inadequate packing can also cause delay in delivery or even loss.  Following is a checklist you can use to ensure that the item you are shipping is properly packed.
PACKING CHECKLIST:
Ο  Use a sturdy and appropriately-sized shipping box for the items you are sending.
Ο  Use heavy-duty double-layered board for valuable items.
Ο  Place fragile goods in the center of a package; ensuring they don't touch the sides. Your item should be well cushioned on all sides.
Ο  Use high quality materials for cushioning and filling packages to prevent movement. Don't allow contents to move within their packaging.
Ο  Use strong tape to seal packages.
Ο  Reinforce bottom of boxes with tape.
Ο  Use strapping to seal and secure heavy packages box.
Ο  Pack powders and fine grains in strong plastic bags, securely sealed and then packed in a rigid fibreboard box.
Ο  Use triangular tubes instead of round tube-type cylinders, to pack rolled plans, maps, blueprints and other documents.
Ο  Protect data discs, audio and video-tapes with soft cushioning material around each item.
Ο  Use cardboard dividers when sending multiple bottles, stemware, glasses, china, etc.
Ο  Remove all labels and stickers when re-using a box. Ensure that the box is in good shape and not worn out.
Ο  Insure valuable items.