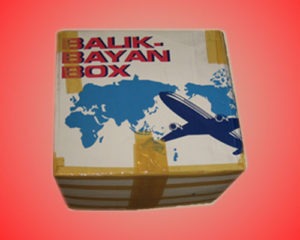 It's that time of the year again and Filipinos all over the world are busy filling up balikbayan boxes to send to their loved ones back home in time for the holidays.  Filipinos are known for having the longest celebration of Christmas in the world and a big part of their festivities is sharing blessings by giving presents to family and friends.  Unfortunately, recent issues with questionable forwarding companies, port congestion, as well as the stricter custom inspection regulation on all balikbayan boxes to the Philippines, has led to the late or non-delivery of packages, as well as other complaints including loss, pilfering and damaged boxes.
To avoid such hassles and make sure that loved ones receive their highly anticipated Christmas presents this year, here are some tips on how to safely and successfully pack and ship a balikbayan box to the Philippines.
Only use forwarders that are accredited by the Philippine's Department of Trade (DTI).  You can check the list of foreign freight forwarders DTI-accredited Philippine counterparts in the DTI website.  The agency also warns against companies which offers exceptionally low rates and persons posing as representatives of freight forwarding companies.  Also make sure to secure shipping documents and get the name and contact details of the consolidator's Philippine counterpart agent.
Use a sturdy sturdy box.  Make sure that the box is strong enough to carry all the stuff you will put in it.  Balikbayan boxes are usually sold at at Filipino stores and door to door cargo offices worldwide.
Pack the box tightly, leaving no space for items to move around.  Wrap fragile items with cushioning materials and fill empty spaces with packing materials.  The box should be packed such that it will not dent or buckle when another box is placed on top of it.
Seal and secure items that may spill or leak.  You may use tape to keep bottle caps and lids from opening or popping up while in transit.
Use a good packaging tape to seal and secure the box.  Apart from the top flaps, make sure the box's bottom is also sealed and reinforced with tape to avoid it from bursting open while being transported.
Label the package clearly and accurately not only with the recipient's name and address but also your name and address.  This is important in case the package needs to be returned to the sender.
Make sure to declare all contents of the balikbayan box to avoid suspicion that could lead to the package being subjected to inspection.  This process can cause delays as well as loss and damage to the goods in some cases.
Never include any of the following items in your packages to avoid interception and possible criminal liability:
Currencies
Checks
Money orders and traveler's checks
Jewelry
Firearms, ammunition and explosives
Prohibited drugs and other substances
Pornographic materials
Gambling cards
Toy guns
Pirated products
Items of commercial quantity
Plant seeds and plant materials
Food not contained in cans, sealed packages or in bottles
Monitor the movement of your cargo.  If a forwarding company does not offer tracking services, think twice before using them.  Nothing gives peace of mind that your package is on its way to your loved ones than a tracking scheme which shows you the whereabouts of your balikbayan box.