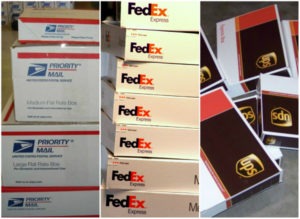 Shipping, whether for personal or commercial reasons, can get expensive especially if you do it frequently or on a regular basis. Getting your item from one point to another can be quite daunting , thus, you must use the best carrier to at least lessen the stress as well as the dent in your pocket.
The United States Postal Service (USPS), United Parcel Service (UPS) and Federal Express (FedEx) are three most popular carriers around. They are not created equal and each has its own pros and cons. In this particular comparative analysis of these three shipping companies, we will focus on the following criteria: price and reliability.
USPS
In terms of price, USPS is by far the cheapest shipping option if you are shipping a package that weighs less than 2 pounds. If your parcel weighs 13 ounces or less, it qualifies for first class postage and is even cheaper to ship. If your parcel weighs over 2 pounds but can fit in a priority mail flat rate box, USPS can still offer a fantastic deal.
The USPS currently offers 3 main shipping services:
First Class Mail – Delivered within 2-5 business days
Priority Mail – Delivered within 2-3 business days
Express Mail – Delivered in 1-2 business days depending on location
The Express mail option is by far the most inexpensive next day delivery service offered in the US, as long as your package's destination is not in a remote location. USPS only offers 2nd day delivery to such locations.
When it comes to reliability, USPS does not guarantee the delivery date of any parcels except for Express mail. What this means is that you can never predict exactly when a parcel will arrive when shipped using the other options.
Another issue with USPS is its inaccurate tracking. There are instances when you can only track a parcel when it has already reached its destination which makes it pretty useless.
UPS
UPS shipping tend to charge higher rates. It really only becomes cost efficient to ship using UPS if your package exceeds 3 pounds. However, if you ship a large volume of packages, you can negotiate with UPS for lower rates. In addition to ground shipping, UPS also offers 3 day, 2 day and next day shipping depending on your needs.
In terms of reliability, UPS is one of those you can count on. At any time, you can track your package to find out exactly where it is. Deliveries are almost always on time.
Fed Ex
Apart from next day delivery service, Fed Ex also offers a ground service at really low prices. It is best to use Fed Ex for packages exceeding 3 pounds. The rates are cheaper than UPS and USPS. Additional 15% discount can also be had if you sign up for an online account.
As far as reliability is concerned, Fed Ex also has good tracking service as well as on time delivery just like UPS.
To sum it all up, USPS is the carrier to consider when shipping packages up to 2 pounds for its reasonable rate. If your package is really heavy, consider using the Priority Mail flat rate boxes as long as your item will fit in the box.
The next economical option Fed Ex. If you ship in bulk, you might want to consider UPS but only if you can negotiate for a lower rate.