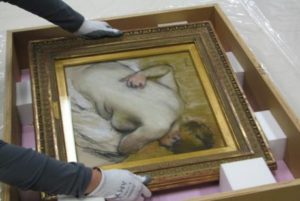 Artworks such as paintings, sculptures and installations, are some of the most difficult items to ship because of their fragility, rarity, size and value. They require proper handling at all times as well as protection from elements that can cause irreparable damage caused by such factors as impact, moisture, and exposure to extreme temperatures.
If you are shipping an important or valuable piece of art, it is understandable if you are having second thoughts of using an ordinary carrier. In fact, it is best to look for a shipping company that specializes in transporting art. There are many such companies and they may charge higher fees than your conventional carriers but you can rest assured that your valuable shipment is handled with care by experienced and trained professionals.
Look for as many art shipping companies that serves your area and get a quote from each, including service details such as packing, crating and pickup. You may also look for reviews and ask for recommendations.
Strike out companies from your list that do not meet your budget or have poor ratings from other clients. Remember though that you may not always get the best deals from companies that charge low fees. Experienced art shippers may cost a little more but they know everything about crating, packing, climate control, and the safety of your art pieces during transit so you don't have to do the hard work yourself.
When shipping art abroad, a reputable art transportation company is your best bet so you don't have to deal with meeting your destinations' requirements for customs, crating, and paperwork.