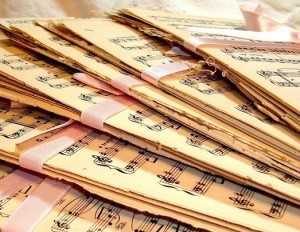 Sheet music is a handwritten or printed form of music notation of songs from the stage, television, movies and radio. Old sheet music featuring stage performances and singers of yesteryear are popular among music aficionados.  Some buy them to use the pages in crafts. Others collect vintage sheet music for their covers featuring colorful drawings of beautiful women which can be framed and displayed.
The sheer volume of sheet music produced and distributed in the past makes them inexpensive and easy to find in the market. However, rare ones can get quite expensive. When autographed by popular artists, sheet music can also jump exponentially in value.
Because they're made of paper and the period they were produced, vintage sheet music can be somewhat fragile. While dog ears, small tears along the edges and some discoloration may be acceptable to some collectors, others prefer pristine and well preserved copies. To ensure that they arrive in the best condition possible, here are some tips on how to properly pack and ship vintage sheet music.
Sandwiching the sheet music between two pieces of corrugated cardboard will protect it from getting crimped and folded during transit. The cardboard pieces should be a little larger than the dimensions of the sheet music to ensure that edges and corners are protected.
Place the sheet music in padded envelopes or stiffened mailers (used for shipping photographs). Address the envelope and take to your local post office.
Another economical way to shipp vintage sheet music is via media mail. It allows you to ship the sheet music with lots of protective packaging at the lowest rates.