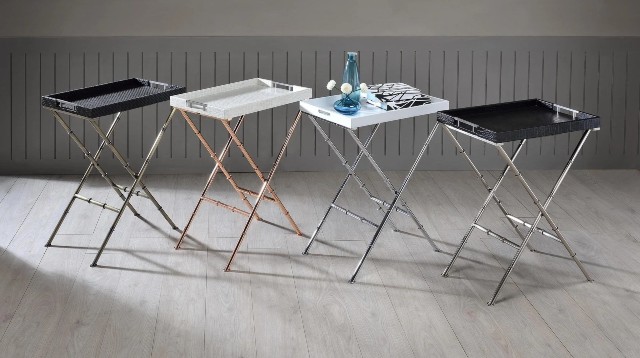 A tray table is a portable table made from a tray mounted on folding legs. It is usually made from light-weight materials such as wood, plastic, and aluminum and can be easily moved around to suit a variety of uses.
Apart from enjoying meals while watching television in the living room, a tray table can also be used as a side table in the bedroom, an extra surface in the kitchen, or as a temporary desk for your laptop. They also come in a variety of styles that could fit any interior.
Because of its use usefulness, portability, and versatility, a tray table makes a great gift for any gender, age, and occasion. If you are planning to send this type of furniture to someone, here are some tips to help you pack and ship a tray table and ensure that it arrives in excellent condition and free from any damage.
Fold-down the tray table to its smallest size possible. Measure its length, width, and thickness and use the dimensions to purchase a sturdy shipping box. The box must be slightly larger than the folded table, providing at least 3 inches of extra space on all sides. You can also customize by cutting to size a large box according to the size of the tray table.
Wrap the tray table in bubble wrap. Use a lot of tapes to keep the wrap in place.  Make sure that you wrap it tightly to prevent the table from moving. Corners and protruding parts like legs must be well-padded as these are susceptible to damage and may punch through the shipping box.
Line the bottom of the box with packing peanuts and place the wrapped table on top. Fill the sides and top of the box with more packing materials. The box should be well-packed so that the table will not shift or move during transit. Close the box and seal with heavy-duty packaging tape. make sure to secure all flaps with packaging tape to prevent them from bursting open during shipping.
Address and label the package and take to your local post office or shipping company.