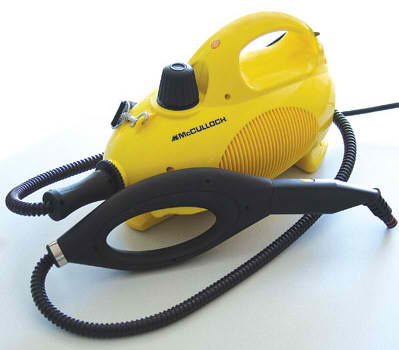 Steam cleaners are all the rage at the moment as they are proven to be effective cleaning appliances that use steam to quickly dry, clean, and sanitize surfaces. They are cited as examples of green cleaning because they do not require the use of detergents and harsh chemical solutions, thus, making them environmentally friendly and cost-efficient.
There are many types of steam cleaners including handheld, mop, and cylinder. Handheld models are portable and useful for small areas such as kitchen counters, hobs, windows, and upholstery. The mop type has a long handle and used primarily for cleaning floors.
The cylinder steam cleaner is the bulkiest but also the most versatile and works on many surfaces including floors, tiles, work surfaces, taps, mirrors, shower screens, etc. It comes with a larger water receptacle so you don't need to refill them as often. It also usually comes with a flexible hose with a variety of attachment nozzles for specific cleaning purposes.
Just like most electrical devices, a steam cleaner must be properly packed for shipping to ensure that it is safe from any damage during transit. Here are tips on how to properly pack and ship a steam cleaner to prevent any damage during the shipping process.
If shipping a pre-used appliance, make sure to drain all water from the tank or receptacle. Remove any attachments and wrap them individually in bubble wrap. Also, wrap the device itself in several layers of bubble wrap. Use the original packaging, if still available, and double box in a slightly larger shipping box with packing materials all around. The key is to pack both the inner and outer box with sufficient packing materials to prevent movement.
When the original packaging is not available, use a sturdy box that can accommodate the steam cleaner and its attachments with a bit of extra space for packing materials. Wrap each part with bubble wrap and arrange the items in such a way that they are protected from the sides of the box with a barrier of packing materials that will absorb any impact. Also, make sure that the bottom and top of the box are filled with a layer of packing materials. Close the box and secure it with packaging tape. Then, double box it with ample packing materials all around, as previously described.
Attach complete and accurate addresses and labels on the package and take to your local post office or shipping company.