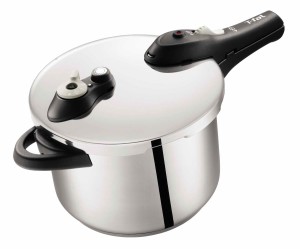 A pressure cooker is a versatile, convenient, time, and energy-saving cooking vessel. It uses pressure from trapped steam to cook food more quickly than conventional cooking methods, thus saving time and energy. Because it cooks food faster in an enclosed system with less water, pressure cooking is known for retaining the most nutrients compared to other cooking techniques. Vitamins and minerals do not leach or scape through steam in pressure cooking.
Pressure cookers typically consist of an aluminum or stainless steel pan body and a lid with gasket or sealing ring, locking mechanism, steam vent, pressure regulator, pressure indicator pin, and other safety devices. They may also come with accessories such as a steamer basket and metal divider for separating different food items in the steamer basket.
Because of the forces that pressure cookers must withstand, they are usually heavier than conventional pots of similar size. The pan and lid must also be handled with utmost care so they don't get dented or damaged. Otherwise, the cooker is virtually useless when the pot and lid do not seal properly.
Avoid all possible causes of damage when shipping a pressure cooker. Here are some tips on how to properly pack and ship a pressure cooker.
The best way to ship a pressure cooker is in its original packaging. Make sure that each part is snugly nestled in its designated location in the box. Use additional pieces of bubble wrap to fill gaps and prevent the parts from moving. Close and seal the original packaging and place inside a slightly larger shipping with ample packing materials in the bottom, sides, and top. Make sure that the inner box is immobile in the center of the outer box before sealing the package close.
If the original packaging is not available, wrap each component of the pressure cooker individually with several layers of bubble wrap. Use tape to keep wrap in place. If accessories will fit, place them inside the pot.
Place the wrapped pot inside a sturdy cardboard box with a layer of packing peanuts on the bottom. Arrange any other items (that did not fit inside the pot) in empty spaces in the box and fill with more packing peanuts, making sure that the items will not move or collide with each other. Place a piece of cardboard on top of the peanut-covered pot and lay the lid on top. Fill the box with more packing peanuts. There should be no movement inside the box when it is closed and shaken. Seal the box with packaging tape. Place the package in a larger box with packing materials on all sides, top, and bottom. Close and seal with tape.
Address and label the package and take to your local post office or shipping company.