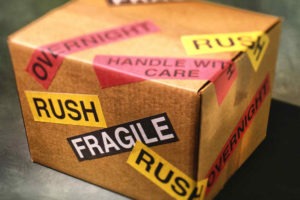 Shipping an item you've just sold on an online store is probably the most tedious and time-consuming task for a new online seller, however, it needn't be. It's the seller's responsibility to make sure that the item gets to the buyer in perfect condition. A seller's reputation is at stake when shipping an item so the task must be done appropriately to avoid negative feedback and ensure repeat customers. We list down key pointers online sellers must bear in mind when
shipping items
to buyers:
Before listing an item on Amazon, eBay, Etsy or other online shopping website, make sure you have an idea on the supplies you'll need to pack the item and the time you need to do it as well as the packing and shipping cost. This way, you will be able to determine the time it will take for the item to be prepared for shipping as well as the cost of shipping and packing materials so you can factor in these details on your listings. This will elliminate last-minute shipping-related surprises!
While you can charge the buyer for the shipping of an item, do your best to cover shipping costs without burdening your buyers. Avoid inflating your shipping and handling costs just to make additional profit. Overcharging for shipping is tacky and unprofessional and may turn off potential buyers. Furthermore, it's a violation in most shopping sites which may lead to suspension or even a closure of an account.
As for packing materials, labels, etc, only charge a nominal handling fee that is enough to cover all the supplies you used to pak an item.
There two factors that are critical in shipping: weight and time. The heavier a package weighs and the faster it has to be delivered, the higher the charge. So to keep shipping cost to a minimum, use light-weight packing supplies as much as possible without compromising the safety of the item inside. If an item needs to be delivered on a certain time, ship it early to avoid using an expedited service which entails eadditional charges.
Be familiar with the different carriers you can use. Compare their rates and pick the one which offers the most cost-effective service. In the United States, the most wildly used carriers are the U.S. Postal Service, UPS, and FedEx.
Use the carrier's online calculators to determine shipping costs. You may need the the packed item's weigh and package dimension to get a shipping rate you may use on your listing.
Common courtesy says that an item must be shipped as soon as the buyer has paid. Ship that package no more than a few days after payment. If you can't ship the package right away, immediately e-mail the buyer and explain the delay.
The transaction does not end after shipping the item to the buyer. You have to make sure that the item arrived in its destination.  To be able to do this, use a carrier which offers delivery tracking services. Use the tracking number provided by the shipping company to monitor the package and its whereabouts. When tracking says the package has already been delivered, send an email to the buyer notifying him that the transaction is completed. Also take the opportunity to say thanks for doing business with you. You may also ask buyers whether they're satisfied — and don't be bashful about suggesting that they leave feedback for you.
Save