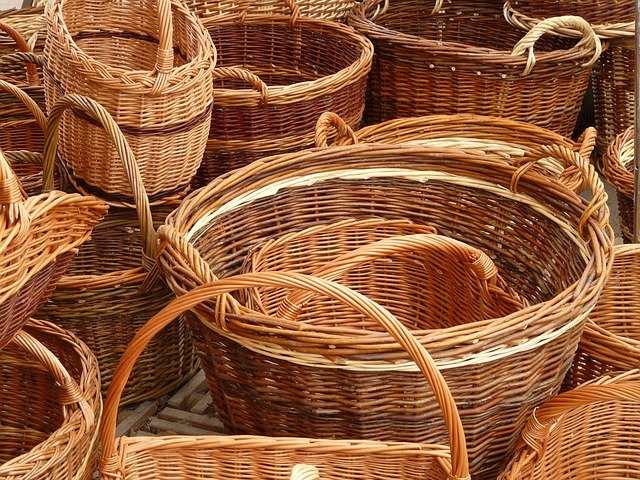 Wicker baskets are fast becoming popular choices when it comes to storage and organization. Aside from being decorative, they make for great ways to store your stuff: anything from magazines and toys to towels and books.  They come in a variety of shapes, sizes, colors, and styles that will suit any home or office interiors. Wicker baskets are often available from home supply stores, antique stores, and stores that specialize in decor.
When being shipped, wicker baskets must be properly packed to ensure that they don't arrive with scratches, out of shape, and with any other damages. Double boxing is the safest way to go. Here are simple tips on how to pack and ship wicker baskets.
Before packing, make sure that the baskets are clean and dry. If stained, the stain must be dry and fume free.
Wrap the wicker basket in several layers of tissue paper and then bubble wrap.  Place the entire basket in a plastic bag or wrap in plastic sheeting.
When shipping nesting baskets, wrap each piece with tissue paper and bubble wrap then put inside a plastic bag before placing inside the bigger basket. To prevent the baskets from moving and shifting around, use packing peanuts packed in individual plastic bags and crumpled newspaper and use these to fill empty spaces.
Place the wrapped wicker basket in the center of a cardboard shipping box.  Make sure that the box is big enough to allow at least four inches in every direction to place packing peanuts, newspaper or other packing materials. Close and seal the box with packaging tape.
Place this box in a much bigger box that is again, at least four inches larger in each direction, and fill again with packing materials. Close and secure with packaging tape.
Properly address and label the package and take to a shipping company or your local post office.