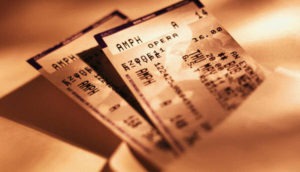 Admission tickets are any vouchers used to allow permission to services such as transportation, entry to establishments like amusement parks or tourist attractions, or access to events such as concerts, performances, sports matches, or any other form of entertainment or recreation. Tickets usually indicate that one has paid for admission and can be used by the ticket holder on the date and time indicated.
Because a ticket don't usually indicate the name of the owner, anybody can use it. It is this very reason that tickets must be properly packed shipped to avoid getting lost, stolen or landing into the wrong hands. Here are some tips on how to properly pack and ship tickets.
Avoid mailing the tickets in a regular postal envelope. There are some post office or shipping personnel that have sticky hands and are on the lookout for parcels with valuable stuff like tickets. They can easily tell if there are valuables by simply running their fingers over the envelope. To be safe, insert the tickets inside a greeting card and mail it as such.
Label the envelope with the accurate recipient address as well as a return address. Make sure that the address are written or printed in legible font.
Use a mailing or shipping option with Signature Required upon delivery. This is to ensure that the tickets will be delivered into the rightful owners and not just left in the mailbox or the porch where it can get lost.