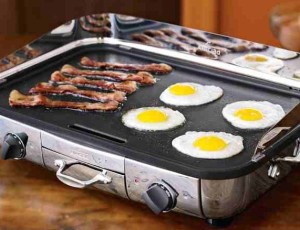 A griddle is a cooking device made of a flat metal plate of either of cast or wrought iron, aluminum or carbon steel, and is heated using electricity or gas. Some models may feature Teflon or other stick-resistant coatings on the cooking surface. Electric griddles are popular home appliances used for frying a variety of food items such as steaks, burgers, sausages, pancakes, stir fry vegetables, etc. Larger than the conventional frying pan, the electric griddle comes handy when cooking large batches of food.
Residential electric griddles are usually portable and can be used on top of a kitchen counter or table. The heat control unit is usually detachable for easy cleaning and to make it dishwasher safe. Here are some tips on how to properly pack and ship an electric griddle to ensure that it arrives without any damage.
Remove the heat control unit and electric cord from the main unit. If the original packaging is available, use it to pack the griddle. You may use bubble wrap to fill any empty space to keep the items from moving. Close and seal the package.
If the original box is not available, wrap the griddle, as well as the heat control unit and other accessories, in several layers of bubble wrap. Close the lid (if any) and place the griddle and accessories in a sturdy box and fill with packing materials all around. Make sure that the package is well-packed and the items are incapable of shifting before closing and sealing the box.
Place in a slightly larger box with fillers in between the two packages. Close and seal the outer box. Address and label the package and take to the post office or shipping company.