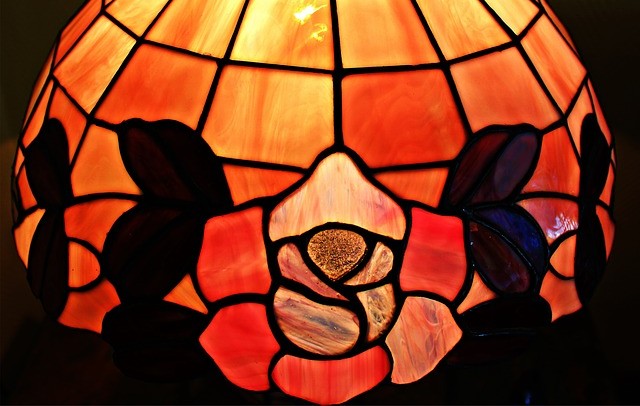 A Tiffany lamp is a type of lighting fixture with a stained glass shade. They are part of the Art Nouveau movement and are considered highly collectible.
The two most popular styles of the Tiffany lamps are the table top and pendant which both feature the stained glass shade.  Authentic Tiffany lamps are handcrafted following a complicated process of cutting varied-colored glass pieces to create a design and attaching each piece together like a puzzle by soldering them using copper foils. This makes Tiffany lamps very expensive.
Because it is made of glass, with many pieces at that, Tiffany lamps are very fragile and need extra precaution when being transported. Here are some tips on how to properly pack and ship a Tiffany lamp to ensure that it arrives intact and without any damage.
Remove the shade from the body of a Tiffany table lamp. Also, remove the bulb and harp and wrap them separately with newsprint and bubble wrap secured with tape.
Roll the electric cord and secure it with a rubber band. Wrap it in a piece of bubble wrap. Also, wrap the entire body of the lamp in paper and several layers of bubble wrap. Tape the wrapped cord on the body to keep it out of the way.
Wrap the shade in newsprint paper and several layers of bubble wrap. Use tape to secure the bubble wrap and prevent it from unraveling.
To prevent any damage, it is best to pack the body and shade on separate boxes. Use boxes that are at least 3 inches larger on all sides than the wrapped lamp body or shade. Fill the boxes' bottoms first with a couple of inches of packing peanuts before laying the body or shade on top.  Fill the sides with more packing peanuts until the box is well-packed and the items cannot move. Close the box and seal with packaging tape. Make sure to reinforce all seams and flaps of the box, including the ones on the bottom, with tape to prevent the package from bursting open. Address the packages and label it with "Fragile" and "Glass" before you take it to the post office or shipping company.
You may opt to ship the packages separately or pack them together in a big box. Use packing peanuts to ensure that both packages fit snugly in the big box and cannot move or bang each other during transit.