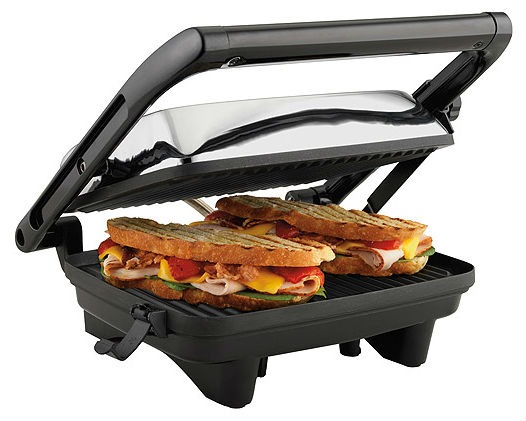 A panini maker is a handy kitchen appliance used to make paninis or grilled sandwiches. A panini is usually made from two pieces of bread filled with cold cuts or cheeses and then toasted in a grill press with heating elements on both top and bottom plates. The heating plates have grooves that leave "grill marks" on the food cooked in it.
Traditional panini makers are made from cast iron which is heated on top of a stove and comes with heavy lids.  The sandwich is then flipped over to grill the other side. Modern panini makers, which are powered by electricity, eliminates the hassles of flipping the sandwich over.
Apart from grilling sandwiches, many home makers use the panini press in preparing or cooking other food items. Some creative uses of the panini press include frying hash browns, waffles, and omelets. Some also use it to reheat pizza, grill vegetables, and meats such as chicken breast, burgers, and bacon.
When shipping a panini grill, pack it well to protect it against damage during transit. Here are tips on how to properly pack and ship a panini maker.
Clean and dry the panini maker, making sure that it is free from grease or moisture. Remove the heat control unit which is usually detachable from the main unit for easy cleaning and storage. Neatly roll the cord and secure with a rubber band or twist tie.
Wrap the main unit and the heat control in bubble wrap. If the original packaging is available, use it to pack the sandwich grill. Use additional bubble wrap as necessary to fill any empty space and keep the appliance from moving. Close and seal the package.
When shipping without the original packaging, wrap the panini maker, and its accessories, in several layers of bubble wrap. Place the it inside a sturdy box and fill with packing materials on all sides, top and bottom. Make sure that the package is well-packed and the appliance is incapable of moving. Close and seal the box with packaging tape.
Address and label the package and take to your local post office or shipping company of your choice.