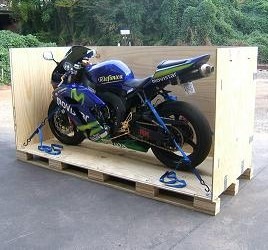 Whether you are moving and want to take your motorcycle with you or sending it to a buyer, Here's what you should do to successfully ship a motorcycle without any damage or unnecessary hassles.
Start preparing the motorcycle by draining the gas from the tank and disconnecting the battery. Properly inflate the tires and fold the mirrors down. Remove any personal belongings from saddlebags or other compartments.
Inspect the bike carefully and list any dents, scrapes or other problems.
If shipping overseas, it is advised to crate the motorcycle. Most major companies have special crates designed for motorcycles that include tie-downs and straps.
Go online and search for a reliable shipper who specializes in transporting motorcycles. There are several good companies you can use to ship a motorcycle. Bikes are normally shipped in enclosed trailers and companies provide door-to-door pick-up and delivery.
Provide a photocopy of the list of any dents or scrapes to the transport company when they pick up the motorcycle. Keep the keys and title in your possession and get a receipt from the driver. If the recipient is another person or buyer, the keys and other pertinent documents must be sent together with the bike.
You can check on the status and location of your bike during shipment with most companies. Make sure the bike is in neutral — leaving the transmission in gear can cause damage during shipment.
Inspect the motorcycle when it is delivered. Any reliable motorcycle shipper is fully insured, but its best to uncrate the bike if necessary and check it out before signing for it. This will be a quick and easy step using the list of any marks or dents you prepared earlier.