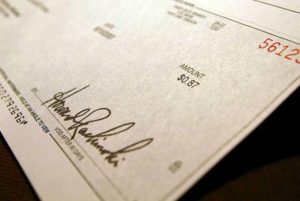 Sending a check via mail is generally safe. It used to be a popular payment method when online banking and electronic payment became the easier, quicker and less worrisome choice. Today, mailing checks is still a reliable way to send payment. However, caution must be practiced when shipping a check to ensure that don't get lost or en-cashed by thieves. Here are some tips on how to ship a check and keep your money safe.
Name the check to a specific payee. Make sure that the check has a specific name of a person or business. This will make it harder for anybody else to en-cash the money. Avoid mailing checks payable to Cash at all cost. That's just as risky as sending cash.
Drop the letter off at the post office. To ensure that the check does not get into the wrong hands, take it to a post office counter and have it processed by an authorized post office personnel. If you can't go to the post office, do not just leave the letter with outgoing mail at your mailbox. Instead, hand it to a uniformed mail carrier.
Track the package. Use certified mail or similar option with tracking services. These services may cost a bit more but at least you can track the whereabouts of your package so you don't have to worry.
Include restrictions on the check. Write "For deposit only to account of payee" in the endorsement area on the back of the check so it will be difficult for somebody to cash the check without leaving a paper trail.
Send a check in a plain package. Make your envelope look as plain as possible without any clues of its contents. It's a good idea to wrap the check in a thick piece of paper or cardboard stock so it will not show through the envelope.
Countless checks get sent through the mail each day. By following these tips, you can be assured that your check will arrive safely.