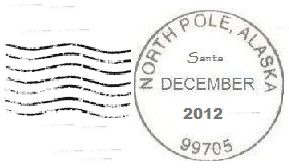 Writing letters to Santa Claus has been a Christmas tradition for children for many years. To keep this tradition alive and make the Christmases of many children all over the world extra special, the united States Post Office is offering North Pole postmarks (often called a Cancellation Mark) on holiday mail. This service is free of charge. To receive the North Pole postmark on your 2012 holiday cards, follow these USPS instructions:
Purchase stamps at any Post Office.
Affix the stamps of your choice to the envelopes.
Address the sealed envelopes, with the cards enclosed, to those on your mailing list.
Mail the cards in a larger envelope, box, Priority Mail, or Express Mail package to:
NORTH POLE HOLIDAY CANCELLATION
POSTMASTER
4141 POSTMARK DR
ANCHORAGE AK 99530-9998
To ensure delivery by Christmas, all requests for North Pole postmark must be received in Anchorage by Dec. 10, 2012.