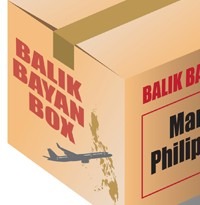 Balikbayan Box Shipping is a popular method, among Filipinos located in different parts of the world, to send packages to their family and friends back home in the Philippines. Balikbayan boxes come in different sizes and are usually filled with various items including clothing, electronic devices, jewelry, toys, canned goods, candies and other products that are not readily available in the Philippines or are just too expensive when purchased there. Balikbayan boxes usually contain gifts or pasalubong and are mostly sent during special occasions such as birthdays, Mother's Day, and Christmas.
Because of the popularity of this shipping method among Filipinos, companies offering balikbayan box shipping services have increased over the years. Most balikbayan boxes come from Saudi Arabia, UAE, Kuwait, Qatar, USA, Hong Kong, Singapore, Italy, UK, Korea, and Taiwan, or countries with high concentrations of Filipino residents/migrant workers. The door-to-door delivery of packages make this a convenient shipping option.   
To help consumers successfully and safely send their packages home, here are some tips on how to properly pack a balikbayan box for shipping.
Organize all items according to their sizes, weights and fragility. This will also give you an idea on how big or how many balikbayan boxes you need to package all your goods.
Purchase sturdy and durable cardboard balikbayan boxes from the forwarder of your choice. Reinforce the boxes by taping the bottom flaps and seams with strong packing tape.
Open up a big and heavy duty plastic garbage bag and use it to line the inside of the box and leave the excess plastic hanging over the flaps. The bag will protect the items from the elements such as moisture and dirt.
Get a piece of paper and pen where you can jot down all the items you will pack inside the box. The list will come handy when you need to declare the contents of your balikbayan box to the forwarder. Also place a copy of the list inside the package so the receiver can check if every item was accounted for upon delivery.
To prevent spills and breakages, secure the caps and lids of bottled items such as shampoos, lotions, and perfumes and place them in individual sealable plastic bags. Wrap fragile items like electronic gadgets in bubble wrap or towels or shirts. Alternatively, you can keep fragile items in their original packaging.
Start packing by placing neatly folded soft items, such as clothing, towels or bed linens, first at the bottom of the box to form a cushioned layer. Arrange the rest of your items in a neat stack inside box, with the heavier stuff going in the bottom and lighter ones on top. Fill the sides of the box with more padded or soft items.
Keep the box in a manageable weight. Do not over-stuff boxes with heavy items. If possible, distribute heavy items to other boxes.
When all items are packed in the box, gather the ends of the plastic garbage bag and tie with tape.
Close the balikbayan shipping box and secure the top flaps with packaging tape.
Address the box with shipper's and consignee's information using permanent marker. Make sure you provide Name, Complete Address, Telephone Number. A map sketch for hard to find destinations will also come handy.
Take the package to your balikbayan box forwarder or have it picked up. Most balikbayan box forwarders have packages insured for a certain amount. You can purchase additional insurance as necessary.
A Word of Caution:
Not all balikbayan box forwarders can be trusted. Some engage in unscrupulous activities including undelivered packages, delayed delivery, pilferage, overcharging, damaged goods and many others. To avoid getting victimized by balikbayan box shipping scams, here are tips provided by the Department of Trade and Industry-Philippine Shippers' Bureau (DTI-PSB), the Philippine agency that addresses these kinds of issues.
Only use forwarders that are accredited by the PSB. You can check the list of accredited cargo consolidators in the DTI website. You can also check the internet for balikbayan box shipping companies in your area with favorable reviews/feedback from previous customers.
Declare all your shipment and ask your forwarder for proper or standard packing, wrapping, strapping, sealing and labelling requirements of your box to avoid any mishap.
Do not include any prohibited items in your package. These include currencies, checks, money orders, traveler's checks, jewelries, firearms, ammunitions, explosives, prohibited drugs and other substances, pornographic materials, gambling cards, toy guns and pirated products.
Have all transport documents at hand. These would include the cargo receipt and  Bill of Lading which serves as a proof that the forwarder received the cargo shipment from the shipper and have placed them on board a particular vessel for delivery to a particular destination. It also states the transport terms in which the received cargo shipments are to be carried and delivered. Make sure that the name, contact details of the forwarder's agent in the Philippines and other pertinent information are clearly indicated in the transport documents.
Track your shipment. Ask your forwarder for information on how you can monitor the whereabouts of your shipment. Ask them to provide you details such as the name of shipping line, vessel's name, voyage number, container number, and expected time of departure and arrival of your cargo.
Advise your consignee about the upcoming shipment and its expected time of arrival. Instruct the consignee to inspect the seal and wrapping of the package before signing the delivery receipt. If there are signs of tampering, tell the consignee to not receive the cargo and ask the delivery agent to have it double-checked.
For consumers who have been victimized by balikbayan box shipping scams or any issues regarding this shipping method, complaints can be filed with the Philippine Shippers' Bureau of the Department of Trade and Industry at the following:
PBI Manila Office: 2nd Floor Trade and Industry Building, 361 Senator Gil J. Puyat Avenue, Makati City
DTI Direct Hotline: (632) 751 3233
email: [email protected]