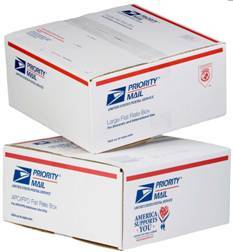 In today's hard times, every cent saved on shipping costs makes a huge difference. This is why ordinary folks who just want to send some stuff to loved ones and retailers who need to send items to customers are both looking for ways to cut their shipping expenses without compromising the safety, security and prompt delivery of their items.
One great way to cut on shipping costs is by using the United States Postal Services. The USPS flat rate shipping offers consumers very affordable rates a variety of free shipping boxes and envelopes that may help reduce shipping costs.
Here are some good reasons why the USPS' flat rate service is worth a try.
1. Free shipping boxes. The USPS flat rate boxes are free of charge. All you need to do is ask for them at your local USPS office or order them in the company's website. While you still need to shell out some cash for packing materials like peanuts, the savings you will make for not having to pay for the box can still be significant.
2. No guess work on rates. The USPS Flat Rate service comes in 11 different package sizes and rates. If your item fits in say, a 8 5/8″ by 5 3/8″ by 1 5/8″ small box, you will only need to pay $5.20 no matter how heavy your product is. This makes the service perfect for shipping heavy items. See the rest of the rates below.
3. Shipped via Priority Mail. The USPS flat rate service is shipped through Priority Mail, which means that packages are delivered within two or three days. Because it's under Priority Mail, packages receive special handling in the USPS system.
4. No surcharges. Costs for the flat rate service are all in. You will not be charged for fuel, residential, or Saturday delivery surcharges to any shipment.
5. Delivers to more U.S. addresses. With the flat rate service, you can ship anywhere in the US unlike other carriers which have limited reach. You can also use the service to ship to post office boxes as well as U.S. government addresses, such as military APO, FPO, or DPO.
6. Packages are more safe and secured. You are assured that your packages are in good hands from transit to delivery. The USPS will not just leave packages on the porch, unlike some carriers. They will even try to redeliver larger packages.
7. Law enforcement protection. Because USPS' flat rate shipments are protected by U.S. federal law enforcement agencies, fraud and theft rates minimized.
USPS Flat Rate Shipping Prices
12 ½" x 9 ½" Envelope — $4.95
12 ½" x 9 ½" Padded Envelope — $4.95
15″ x 9 ½" Legal-sized Envelope — $4.95
10″ x 7″ Gift Card-sized Envelope — $4.95
10″ x 6″ Small Envelope — $4.95
10″ x 5″ Window Envelope — $4.95
8 5/8″ x 5 3/8″ x 1 5/8″ Small Box — $5.20
11″ x 8 ½" x 5 ½" Medium Box — $10.95
13 5/8″ x 11 7/8″ x 3 3/8″ Medium Box — $10.95
12″ x 12″ x 5 ½ Large Box — $14.95
12″ x 12″ x 5 ½ Large APO/FPO/DPO Box — $12.95