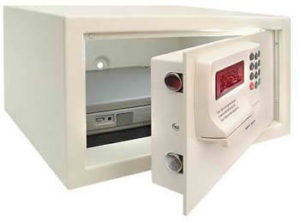 A safe box, or simply safe, is a box equipped with locking mechanism used for securing valuable objects against theft or damage from fire, the elements or pests. It is usually a hollow cuboid, with one face being removable or hinged to form a door. The body and door may be cast from metal (such as steel) or formed out of plastic through blow molding.
These boxes come in different sizes and feature a variety of locking mechanisms such as combination, key, time lock and electronic. Safes made from plastic are lighter in weight and can be easily carried around or transferred to a new location. Metal safes, on the other hand, are heavier and may require several hands to move around.
Safe boxes are generally sturdy and may survive impact during transportation.  However, proper packing must still be observed when shipping to ensure that the locking mechanisms are not damaged during transit. Here are some tips on how to pack and ship a safe box.
Remove any valuable items inside a plastic home safe. Close and lock the safe so the door will not swing open. Make sure to keep the combination or key in a safe place. Wrap the entire safe in bubble wrap, paying extra effort to cover the locking mechanism, as well as corners and edges, with sufficient padding as these parts are most prone to damages due to impact.
Get a sturdy cardboard shipping box that is large enough to accommodate the safe and provide extra space on all sides, top and bottom. Fill the bottom with a layer of packing peanuts and place the safe on top, making sure that it is in the center on the box. Add more packing materials in remaining empty spaces on the sides and top until the box is full to the brim. Close the box and shake to test for movement. If there is movement inside, add more packing materials. Otherwise, close the box and seal with tape.
Address the package and bring to a post office or shipping company.
When shipping a heavy steel safe, look for a company that specializes in transporting heavy items. You can opt to have the package picked up, so you don't have to break your back lugging it to the shipping office.