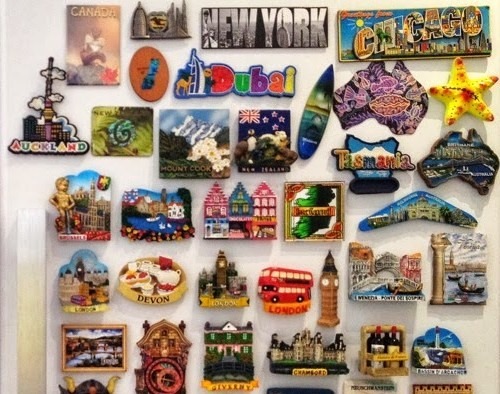 Refrigerator magnets, also called fridge magnets, are ornaments, often whimsical, attached to a small magnet, which is used to post items such as shopping lists, child art, or reminders on a refrigerator door. They are sold at souvenir shops worldwide and have become popular collectible items.
Fridge magnets carry a variety of decorative themes including famous tourist spots, cartoon characters, nature, and other novelty designs. These items can be made from a variety of materials including plastic, resin, wood, metal, carboard, rubber, and paper mache, with small magnets or magnetic sheets attached at the back to make them adhere to refrigerator doors. Some businesses also give away refrigerator magnets with promotional messages on them.
There are regulations about shipping magnets but these mainly concern objects with a high magnetic field strength that may interfere with the navigational equipment of a plane. Refrigerator magnets are not that powerful and should not pose any problems when mailed. Nevertheless, refrigerator magnets should still be properly packed to ensure that they do not get stuck in postal equipment or get damaged during transit. Here are some tips on how to properly pack and ship refrigerator magnets.
Depending on the size and materials used, refrigerator magnets can be shipped in padded envelopes or small boxes. Fridge magnets printed on magnet sheets are thin enough to be mailed in padded envelopes. Just place each item between two sheets of cardboard stock before inserting in a padded envelope to prevent them from getting folded during transit.
For a chunkier magnet, bubble wrap it, place in a small box, and then into a bubble mailer.  When shipping several pieces in one package, bubble wraps the magnets individually and arrange in a sturdy and appropriately-sized shipping box. Keep the items from colliding with each other by filling the box with crumpled paper, more bubble wrap, or packing peanuts.
Close the box and seal top and bottom openings with packaging tape. Address and label the package and take to your local post office or neighborhood shipping company.