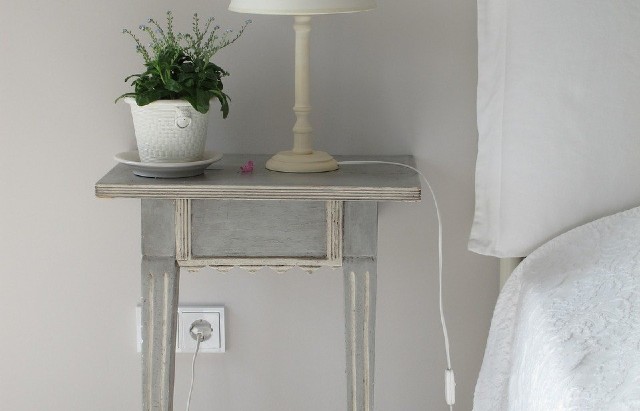 A nightstand, also called night table or bedside table, is a small table designed to stand beside a bed. It is an essential piece of bedroom furniture which is very useful in keeping nightly essentials like reading glasses, telephone or medication within easy reach, eliminating the need to get out of bed when you need such items.
This furniture can be as simple as a four-legged pedestal or can be utilitarian, equipped with drawers or cabinets. The nightstand is also an ideal surface to place a lamp for nighttime reading and an alarm clock or can serve as storage for reading materials and other personal effects. Nightstands can come as pairs but they can also be mixed and matched depending on the bedroom's interior design.
These tables can be made from a variety of materials including hardwood, plastic, and steel. They also come in a variety of designs from simple to very ornate. Antique nightstands are also popular for their exquisite craftsmanship and design.
When shipping a nightstand, proper packing techniques must be employed to avoid damages.  Here are some tips on how to properly pack and ship a nightstand.
Measure the nightstand and use the dimensions to buy a shipping box that is at least a couple of inches larger on all sides than the furniture.
Remove all contents from the table. Detach knobs or pulls on the drawers or cabinet doors, especially the protruding ones. If they are permanently attached to the drawer, just wrap each pull with bubble wrap and secure with tape. Place all detached knobs and screws in a Ziploc bag, seal and tape securely inside the drawer.
Secure any drawer or cabinet door in place by using pieces of cardboard as wedges to prevent them from sliding out or opening. Avoid using packing tape to seal the drawers shut as the adhesive on the tape can ruin the finish of the furniture.
Wrap the entire nightstand generously with Kraft paper. Secure the paper in place with packing tape. Then, wrap it in a couple of layers of bubble wrap and secure it with tape.
Get the shipping box and line the bottom with at least 2 inches of packing peanuts. The heavier the furniture, the more packing peanuts you need to provide optimum padding and protection.
Flip the nightstand upside-down such that its legs are sticking up. Place the table inside the box in this position. The table's top is its most stable part and shipping it this way prevents the package from toppling over. If the table is box type and does not have legs, it can be shipped in an upright position.
Fill all sides with more packing peanuts up to the top of the box. Shake the box a bit to help the peanuts settle in void spaces. Add more packing peanuts to fill spaces. The idea is to pack the furniture with at least 2 inches of material on each side to prevent it from moving. Check by closing the box and shaking. If you feel no movement from within, you may now close and seal the box. Otherwise, add more packing materials.
Address and label the package and take to a reputable shipping company. Consider buying insurance when you ship an antique or expensive nightstand.