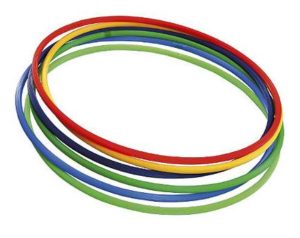 A hula hoop is a ring that is twirled around the waist, limbs or neck. Hula hooping is a popular recreational activity for kids and have also become a form of exercise for adults.
Traditional hoops were made from a variety of natural materials such as willow, rattan, grapevines, bamboo and stiff grasses. Aside from being a children's toy, these hoops were also used by cultures around the world as part of traditional dances and rituals.  
The hoop gained international popularity in 1957 when a plastic version was invented and successfully marketed by a toy company. The hoop made from plastic tubing that comes in a variety of colors and designs became a big hit and continued to be one of the most popular toys up to the present. In 1999, the hula hoop was inducted into the National Toy Hall of Fame in New York.
Hula hoops for children generally measure approximately 71 centimeters (28 in) in diameter, and those for adults are around 1.02 meters (40 in). They typically come in collapsible and non collapsible versions
Because of their unusual shape, many think that packing a hula hoop for shipping is a complicated process when it is actually very easy. Here are tips on how to properly pack and ship hula hoops.
Collapsible hula hoops can be simply dismantled and placed in a bag. Box it with ample packing materials on all sides, top, and bottom to prevent any movement. Close, seal and address the box and its ready for the post office.
Packing a non-collapsible hula hoop require a bit more elbow grease. You don't need a cardboard box for this, just strips of freezer paper, brown packing paper
and clear tape.
Simply wrap strips of 1.5-inch wide freezer paper around the hoop and use tape to secure the end. Repeat the process using strips of 1.5-inch wide brown packing paper. To be safe, wrap with two layers of brown packing paper. Make sure that there are no gaps and the entire hoop is covered. Then, tape the entire hoop.
When shipping more than one hoop, stack them and secure with plastic or wire tie before wrapping with freezer paper and brown packing paper.
Attach the address onto the brown paper and cover with clear tape. If you don't know where to place the address, just go to your post office or shipping company and have them place the address for you.