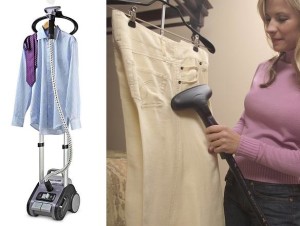 A garment steamer, also called clothes steamer, are a quick and effective tool for removing wrinkles from clothing, linens, furniture slipcovers and drapes. Clothes steamers have evolved into a variety of models, including hand-held portable versions, industrial machines used by dry cleaning businesses and medium-sized versions popular among shop owners and regular home users.
A home garment steamer usually have an electricity-powered machine which heats water in a build in tank to generate steam. The steam passes through a hose and exits through a nozzle with brush or other attachment. The nozzle is then ran over the garment or fabric to smooth out wrinkles and folds. The device usually comes with a detachable metal rod where clothes can be hung while being steamed.
A garment steamer is ideal for delicate fabrics such as velvet and silk which may be damaged when a flat iron is used to smooth out wrinkles. Steamers are also ideal for cleaning and disinfecting mattresses, pillows, and upholstered furniture.
Most home garment steamers are small enough to be easily transported. Here are some tips on how to properly pack and ship a garment steamer to ensure that it arrives intact and in excellent condition.
The best way to pack a garment steamer for shipping is by double boxing it in its original packaging. Before packing, remove any any water in the tank and wipe the entire steamer dry including the hose and nozzle to get rid of any moisture. Roll the electric cord and secure with twist ties. Remove any detachable parts such as hanging rod, hose and attachments.
Place the machine and its parts in the designated compartment inside the original packaging. Make sure that all items as snug and do not move around. Close and seal the original box and place in a slightly larger shipping box with packing materials on all sides, top and bottom. The inner box should remain immobile in the center of the outer box with the packing materials protecting it from any impact during transit. Close and seal the outer box.
If the original packaging is not available, wrap the entire machine generously with bubble wrap. Also bubble wrap the accessories individually. Place the items inside a sturdy box with packing materials on the bottom. Fill remaining empty spaces with more fillers to prevent movement. Close and seal the package and double box as described above.
Address and label the package properly before taking to the post office or shipping company.