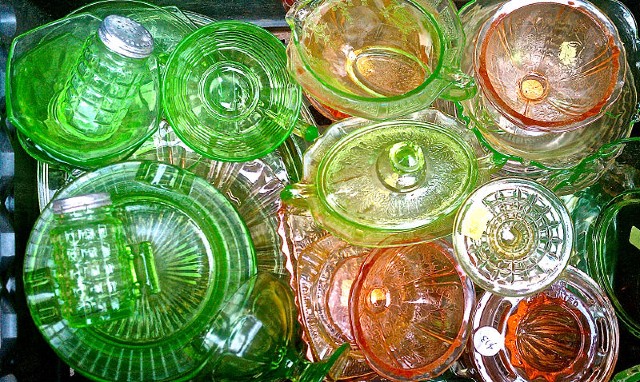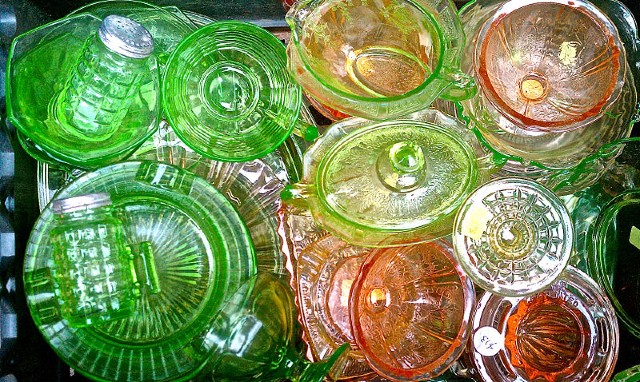 During the years of the Great Depression in the United States, many glass manufacturers produced glassware that became known as Depression glass. These mass-produced molded glass items were made as a cheap alternative to fine bone china.
Apart from their affordability, these items are known for their wide array of bright colors. Some were even given out for free by businesses to encourage shoppers to buy their products or visit their stores. Despite their relatively poor quality and imperfections, these items are highly appreciated because they brighten up homes without breaking the bank.
Depression glassware comes in a variety of forms including plates, vases, bowls, pitchers, glasses, and entire dinner sets. Common colors are clear (crystal), pink, pale blue, green, and amber while less common colors include yellow, ultra marine, jadeite, delphite, cobalt blue, red, black, amethyst, monax, and white (milk glass), which are highly sought after by collectors.
In the 1960s, depression glassware started to become highly collectible. Today,  Depression glass is becoming more scarce on the open market, making rare pieces sell for several hundred dollars! Because most of these items were used on a daily basis during their time, they are often found scratched, chipped, or cracked. This further boosts the value of items that are in mint condition.
As they were made using inexpensive processes and cheap materials, not to mention the wear and tear they were exposed to while in service, depression glass items can be very fragile. Lace designs on the edges of some pieces can be easily damaged and, thus, require proper handling and storage. These factors make shipping Depression glass a challenging task.
However, these fragile items can be safely shipped as long as they are packed appropriately. Here are some tips on how to properly pack and ship depression glass.
Individually wrap each item in bubble wrap, making sure to add extra padding to protruding handles, lacy edges and other fragile areas. Use packing tape to secure bubble wrap in place.
Place the bubble-wrapped item within a sturdy box not too much larger than the object itself. Place packing materials such as bubble wrap, packing peanuts, or crumpled paper around the object so that it does not jostle around in transit. Tape the box shut.
Put the smaller box inside a larger cardboard box and surround it with more packing materials to keep it from moving around during shipment.
When shipping several items in one package, arrange the individually boxed items inside a bigger box with packaging materials at the bottom. Fill any empty space on the sides, between the small boxes, and the top of the box with more packing materials to prevent any movement. Close the box and secure with tape.
Address and label the package and take to a post office or carrier of your choice. Insure any high-value shipment.
Photo credit: Lowkeyvision / CC BY-SA