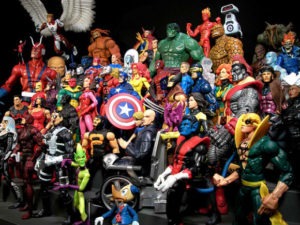 An action figure is a character figurine that has joints that allow its extremities to be bent, rotated or articulated in a variety of poses. A very popular toy for boys, action figures are usually based on famous personalities and characters from films, cartoons, comic books, computer games, sports, etc.
While most commonly marketed as a children's toy, action figures have become highly collectible items as well. Adults who are into collecting action figures are known to purchase such items solely for display. Kept in mint condition in their original packaging, some action figures can cost a fortune making them most sought after merchandise by serious collectors.
In collecting, the original packaging of an action figure is as important as the toy itself. These containers do not only protect the toys inside but may also feature colorful artwork making them highly desirable. The more pristine the condition of the action figure and its packaging, the higher its value will be. Thus, it is important to protect not only the toy but also its original packaging when shipping an action figure to a collector.  Here are some tips on how to properly pack and ship action figures to keep them in excellent condition.
Action figures are packaged in a variety of methods. Some of the most common types of packaging for these toys are window box packaging, bubble packaging, PVC packaging and tube packaging. These packaging usually keep the action figures safe and sound inside and can be easily double boxed for shipping. In case the action figure moves inside its original packaging, fill empty spaces with bubble wrap to prevent shifting.
Wrap the entire packaging generously with bubble wrap and use tape to secure in place. Do not let the tape get in contact with the original packaging as adhesive residue may damage the original box.
Place the wrapped action figure inside a sturdy shipping box with a layer of packing peanuts at the bottom. Add more peanuts on the sides of the box until it is filled to the brim. Close the box and seal with packaging tape.
Address and label the package and take to your local post office or shipping company. Insure highly valuable items to protect yourself in case the package gets lost or damaged during transit.