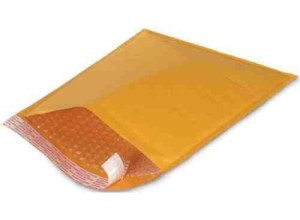 The post office is a great way to send a package from one place to another. However, not all items can be simply placed in an enveloped and mailed. Sizes, shapes and weights of items vary and each may require a specific type of packaging to ensure optimum protection. Remember, a type of packaging may work for certain items but may not be sufficient to protect others. Here is a run down of different mailers and envelopes you can use when mailing items.
Bubble Lined Mailers & Envelopes
These are the best solutions if you're sending delicate items which could be damaged long distance, particularly overseas. They are lighter than macerated paper yet made of comparably sturdy materials. The bubble wrap lining provide extra cushioning to protect items during transit. Bubble lined mailers and envelopes come in a variety of sizes.
Book Wrap Mailers
Book wrap mailers are a secure, lightweight solution to safeguard books when sent through the post. Used by mail order companies throughout the world, book wraps are suitable to mail books overseas and can be used for both paperback and hardback copies.
Cardboard Envelopes
Made from sturdy cardboard, these envelopes protect contents from bending and creasing. They are ideal when shipping documents, photographs, art prints, calendars, etc. They come in different sizes.
Polythene Mailing Bags
These bags are suitable for items that need reliable, weatherproof protection whilst in transit. They can be used for documents, printed materials, and pieces of clothing. They come in clear and opaque plastic varieties as well as in different sizes. Some mailing bags are made from 95% recycled materials, making them an economical and earth-friendly choice for personal and commercial use.