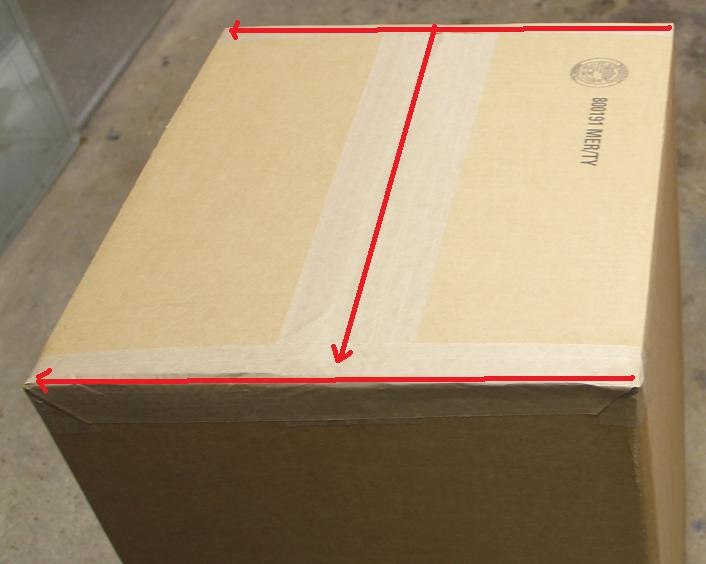 Apart from using appropriate boxes, packing materials, and proper packing techniques, it is also essential to seal a package properly to ensure that it will not collapse or burst open while in transit. The most secure way to seal a package is the H-taping method.
This package sealing method is used by most carriers and moving companies. It is called the H-method because once completed, the tape on the box will look like a capital letter "H". Aside from sealing the box, this method is also a great way to prevent tampering because of the quantity of tape that would have to be removed. Below are the steps on how to seal a package using the H-taping method.
Before filling the box with your items, tape up the bottom first to provide reinforcement and prevent it from collapsing when lifted. Brown packaging tape is recommended as duct tape or masking tape lose their adhesive properties in extreme temperatures.
Fold down the flaps on the bottom side and tape down the middle of the box between the flaps using a tape dispenser. Allow an overhang of tape on each end and fold to the side of the cardboard box. Apply pressure on the whole length of tape to ensure that it adheres to the cardboard box.
Then, tape down the opposite edges to form the letter "H". Half of the tape should stick on top of the box and fold the other half on the side. Use several layers of tape when packing heavy items.
You can now place your items inside the box following proper packing and cushioning techniques to ensure that they are protected against impact and will not move around. When done, seal the top of the box using the H-taping method described above.
Once completed, your package will be securely sealed on all sides and will help ensure that your items will not get lost or damaged during transit.