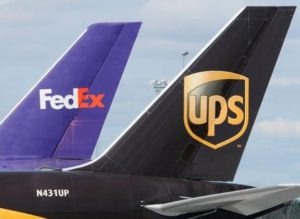 When you are shipping something, be it a small package or a massive freight, it is best to use a shipping company that you can trust and has a very reputable background.  In the United States, the leading shipping companies includes UPS, FedEx and Maersk.  They are  not just national winners but global leaders as well. This article provides an overview of the top and largest shipping companies in America.
United Parcel Service of America Inc.
Based in Atlanta, Georgia, UPS is one of the world's biggest package delivery organization. Also known  as the Big Browny because of its brown logo, UPS started as a bicycle courier service in 1907 and now delivers to over two hundred nations and owns over five hundred aircraft, and is still growing!
FedEx Corporation
FedEx was founded in Sta. Barbara, California in 1970. The company has over 400 offices, retail sites, and print center sites all over the globe and operates in the US for 24 hours a day and seven days a week. FedEx employs worldwide ground and air network to ensure fast delivery and reliability.
Maersk
This global corporation owns one of the biggest shipping companies in the world as well as several of the largest container ships. Maersk Logistics USA, Inc. has been around for more than a century and its experience and expertise in logistics and avant-garde machinery are what make them stand out in the industry. Maersk Logistics holds 14 headquarters and contacts in the United States including Dallas, Georgia, Florida, Honolulu, Illinois, LA, and San Francisco.
Hapag-Lloyd
Hapag-Lloyd has been in service for over 150 years, making it another global leader in shipping. It has twenty five offices in United States and that includes Florida, New York, Los Angeles, Honolulu, and Seattle. Hapag-Lloyd USA provides an extensive range of container types, offering the appropriate equipment for any kind of freight.
COSCO
Incorporated almost three decades ago, COSCO Americas, Inc. is a subsidiary of global COSCO Group. Another leading global logistics and shipping company, COSCO offers a variety of services from cargo flow management to tanker shipping, container shipping, shipping supply and technical support as well as vessel operations support. Cosco has service centers and offices in Charleston, Boston, Norfolk, Chicago, Seattle and other major US cities.
American President Lines Ltd. (APL)
Recognized as the world's 6th largest company specializing in freight and shipping, APL has more than 20 offices all over United States alone. The company is the US government's trusted service provider that offers expert and efficient shipping solutions for more than a century now.
Hanjin
With headquarter in Korea, Hanjin operates in 22 American cities such as Long Beach, Atlanta, Houston, Minneapolis, Portland, and Cleveland.
NYK Line
Nippon Yusen Kabushiki Kaisha is a Japanese shipping company with nearly 170 subsidiaries in the United States. NYK Logistics' center of operations in the US is in Long Beach, California.
Evergreen Marine Corporation
This a Chinese shipping company with headquaretrs in Taiwan. It offers a variety of services including shipping, vessel construction, and port management. Almost 20 agent offices are in the States including New Jersey and New York.
CMA CGM
A French container transportation and shipping company.  Its headquarters are in Marseille, and its North American headquarters are in Norfolk, Virginia, USA. The company boasts of a steady growth of 30 percent annually making it in the top ten shipping organizations in the US.