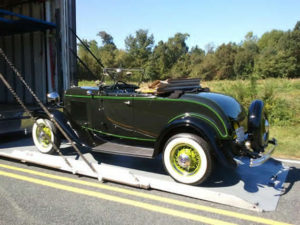 There is a huge market for old cars as many enthusiasts collect them as investments. These old cars can be categorized as antique, vintage, or classic, and can be cheap or expensive. Prices depend on the condition of the vehicle. The less work required equates to a higher price while those that need major restoration may initially cost cheaper but can get more expensive when repairs are done.
The easiest way to get a car from one place to another is, of course, to drive it. However,  shipping a car using a vehicle shipping company to your next destination might be easier and practical, especially for old and broken down vehicles that require major repairs.
There are many companies that will ship your car, usually aboard a large truck. They vary in services and rates, so it's an excellent idea to get several quotes before making your choice.
Prior to shipping, remove all hazardous substances, including gas and oil. Also empty the car of personal belongings. These may not be insured if lost in transit, and may become loose and damage the interior.
Inspect your vehicle so that you can see if there are any existing damage. Document the car's condition with a camera and date the pictures. Make notes of any existing scratches, dents or any form of damage. These will come in handy if the vehicle incurred damages during transit and you need to file a claim.
If you paid a great amount of money for your antique, vintage or classic car, you'll certainly want it shipped in an enclosed vehicle to avoid road damage to the finish. Look for a hauler that has experience with old vehicles. There are companies which specialize in this work. Pick one that provide tracking services so you know your car's whereabouts while in transit.
You may save on shipping costs by going with an open carrier rather than a closed one. This may be practical for less valuable vehicles but be reminded that this option will subject your car to the possibility of road damage.
If the vehicle you are shipping is not in running condition, inform the hauler and ask how they would get your car safely in and out of their truck. Know what equipment and process they will use so you can rest assured that your vehicle will be handled with care. A truck with hydraulic lift gate is the best way to get an immobile vehicle aboard a truck.